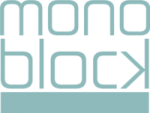 Acrylic glass, an innovative material for design
Acrylic glass (or PMMA) owes its strength to a complex combination of carbon, hydrogen and oxygen. By heating it to fusion, it is easily transformed and recycled into a material that
will be polymerized again. Acrylic glass is therefore recyclable and is one of the reusable plastics.
Much lighter than glass, it also has a better optical transmission of light and is an innovative and timeless diffuser.
This adaptable and intelligent material has been immortalized in the 20th century by great names in design and architecture such as Verner Panton, Charlotte Perriand and Le Corbusier.
The concept of the Monoblock ligth sculptures is based on a simple, Euclidean shape. It consists of a rectangular block in acrylic, which rests on a base. This acrylic is used for its pure transparency and polarizing effect, as only the contours illuminate, giving the sensation of an inner source: a feeling of intimacy with the object.
The bases into which the blocks are integrated vary in material and finish, and carry the electronic part of the object. The ligth sculptures gives access to innovative controls based on an up-gradable proprietary Bluetooth application, intensity and colorimetry adjustment, ambiance program memory, programmable modulation sequences and that can react to sound.
* (except for series A)